Feeling adventurous? Preview upcoming Dental3DPlugin 5.0 features before it is released and give us feedback to make Dental3DPlugin even better! You'll find below the download links to the current beta versions of Dental3DPlugin for OsiriX and Horos.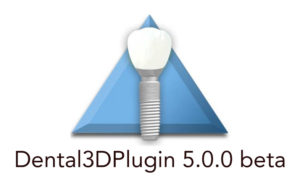 The current beta version is Dental3DPlugin 5.0.0 beta 20200502.
Important notes
The best way to install these plugins is to do a right click on the plugin file and select "Open with…" in the contextual menu. It allows to choose the correct software (OsiriX MD 11.0.2 or Horos 3.3.6) especially if you have several OsiriX or Horos versions on your system.
Because these beta versions have a 5.0.0 version number, you won't be noticed by OsiriX or Horos when the official non beta version of the plugin will be released ( same version number 5.0.0). Check for the release of Dental3DPlugin 5.0.0 on this website or on our Facebook page.
For technical and safety reasons, Dental3DPlugin is from now compatible with the current version of OsiriX or Horos only. We don't have the code of OsiriX and we never know the code of OsiriX when a new version is released! For each OsiriX update, we have to work hard and fast to release a compatible update. If possible, we recommend to wait for the plugin next update before updating OsiriX or Horos.
This beta version IS NOT compatible with latest OsiriX MD 11.0.3
Dental3DPlugin 5.0 new features and improvements
Full and automatic saving
Adds a preferences window
Adds quick access to user-defined drills and drill sleeves
Improves the 2D outline of the implants
Improves the design of the drill guide
Faster access to the drill guide design feature
New drill guide rendering engine, more stable and faster
New no-undercut algorithm, more stable and faster
New implant info window, with quick implant selection et delete
Adds the possibility to modify implants outside the active transverse section
Better management of implant collisions during their mesio-distal displacement
Adds highlighting of the active implant by color change in the panoramic view
Adds creation of a wax-up by fusion of 3D teeth with the study model
STL export of the study model, the wax-up, the no-undercuts model
Adds a second STL import preserving the 3D position of the model if exported with the plugin
New drill guide design window
Adds visual informations about the drill guide resolution, memory load, build time
Adds a palatal depth setting for the palatal supported drill guides
Sends a notification at the end of the drill guide process if the plugin runs in backgound
Adds a transverse section position slider to the 3D view
Opens the 3D view at plugin start
Adds a splint mode
Adds a radiographic splint mode, with slots for 4mm and 5mm glass balls markers
Adds tooltips (help tags) on mouse over every buttons of the plugin
Fine move of the implants with keyboard arrows
Restores the axial MPR view tilt
Automatic view tiling on JPEG export
Apple Notarization that ovoids Apple security warning on install
OsiriX MD 11.0.2 compatibility
Bugfix
More informations are coming on Facebook… Stay tuned!
Download links
Dental3DPlugin 5.0.0 beta 20200502 for Osirix MD 11.0.2
Dental3DPlugin 5.0.0 beta 20200502 for Horos 3.3.6
Software licence term and conditions
Dental3DPlugin is not certified as a commercial medical device for primary diagnosis. Hence, there are no FDA/CE-1 certifications. You can only use this OsiriX plugin as a reviewing, research or teaching software, not for primary diagnostic, used in clinical workflow and/or for patient care.
THIS DENTAL IMPLANT PLANNING SOFTWARE IS PROVIDED AS IS. USE THE SOFTWARE AT YOUR OWN RISK. THE AUTHOR MAKES NO WARRANTIES AS TO PERFORMANCE OR FITNESS FOR A PARTICULAR PURPOSE, OR ANY OTHER WARRANTIES WHETHER EXPRESSED OR IMPLIED. NO ORAL OR WRITTEN COMMUNICATION FROM OR INFORMATION PROVIDED BY THE AUTHOR SHALL CREATE A WARRANTY. UNDER NO CIRCUMSTANCES SHALL THE AUTHOR BE LIABLE FOR DIRECT, INDIRECT, SPECIAL, INCIDENTAL, OR CONSEQUENTIAL DAMAGES RESULTING FROM THE USE, MISUSE, OR INABILITY TO USE THE SOFTWARE, EVEN IF THE AUTHOR HAS BEEN ADVISED OF THE POSSIBILITY OF SUCH DAMAGES. THESE EXCLUSIONS AND LIMITATIONS MAY NOT APPLY IN ALL JURISDICTIONS. YOU MAY HAVE ADDITIONAL RIGHTS AND SOME OF THESE LIMITATIONS MAY NOT APPLY TO YOU.
Copyright © 2013-2020 – AMDentalSoft – Dr Alexandre Martinet