Dental3DPlugin is a free dental implant planning software provided as a plugin for the world famous DICOM Viewer OsiriX.

Dental3DPlugin has been designed for dentists. It extends the OsiriX 3D Curved MPR Viewer and the 3D Surface Rendering Viewer features to allow the user to perform dental implant treatment planning and surgical drill guide design.
Implant templates drawing
Tooth Supported and Bone Supported Drill Guide design New!
Drill Guide .STL export for 3D Printing New!
Implant ROI diameter automatic calculation based upon image analysis
Automatic Panoramic Curve
Nerve drawing and nerve draws saving
3D Surface Rendering showing implants, nerves, transverse section position plan or panoramic curve as 3D objects
STL Import in order to add optical scanned study models and/or wax-up models to the 3D Surface Rendering Window
3D Objects Matching (Registration)
3D Teeth Database for Virtual Wax-up
Undercuts Computing
Up to three panoramic curves ("undefined", maxillary and mandibular) for the same series
Highly customizable views layout
ROIs are associated with each transverse section position
Transverse View extended zooming
Implants numbering
Easy axial curve translation
JPEG Export including implant templates export
Get Dental3DPlugin for OsiriX
First download the OsiriX version of your choice, then download the latest Dental3DPlugin version using the OsiriX Plugin Manager.
As an alternative way, you can download the latest version of Dental3DPlugin, and install it by clicking twice on the downloaded file, but if you have several versions of OsiriX on your computer, this way may not work properly.
Please take a look at the revision history page for OsiriX and Mac OSX compatibility issues and versions improvements.
Get Dental3DPlugin for Horos
First download Horos, then download the latest version of Dental3DPlugin for Horos using the Horos Plugin Manager.
As an alternative way, you can download the latest version of Dental3DPlugin for Horos, and install it by clicking twice on the downloaded file. Please note that this version of the plugin is only compatible with Horos 3.0 and later.
YouTube Channel
Learn more
Check out what's new!
Don't forget to visit the plugin help page!
Screenshot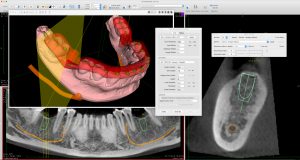 Important notice about Dental3DPlugin
It is not certified as a commercial medical device for primary diagnosis. Hence, there are no FDA/CE-1 certifications. You can only use this OsiriX plugin as a reviewing, research or teaching software, not for primary diagnostic, used in clinical workflow and/or for patient care.
THIS DENTAL IMPLANT PLANNING SOFTWARE IS PROVIDED AS IS. USE THE SOFTWARE AT YOUR OWN RISK. THE AUTHOR MAKES NO WARRANTIES AS TO PERFORMANCE OR FITNESS FOR A PARTICULAR PURPOSE, OR ANY OTHER WARRANTIES WHETHER EXPRESSED OR IMPLIED. NO ORAL OR WRITTEN COMMUNICATION FROM OR INFORMATION PROVIDED BY THE AUTHOR SHALL CREATE A WARRANTY. UNDER NO CIRCUMSTANCES SHALL THE AUTHOR BE LIABLE FOR DIRECT, INDIRECT, SPECIAL, INCIDENTAL, OR CONSEQUENTIAL DAMAGES RESULTING FROM THE USE, MISUSE, OR INABILITY TO USE THE SOFTWARE, EVEN IF THE AUTHOR HAS BEEN ADVISED OF THE POSSIBILITY OF SUCH DAMAGES. THESE EXCLUSIONS AND LIMITATIONS MAY NOT APPLY IN ALL JURISDICTIONS. YOU MAY HAVE ADDITIONAL RIGHTS AND SOME OF THESE LIMITATIONS MAY NOT APPLY TO YOU.
Copyright © 2013-2017 – AMDentalSoft – Dr Alexandre Martinet